Backstage At The Verb Hotel In Boston's Fenway Neighborhood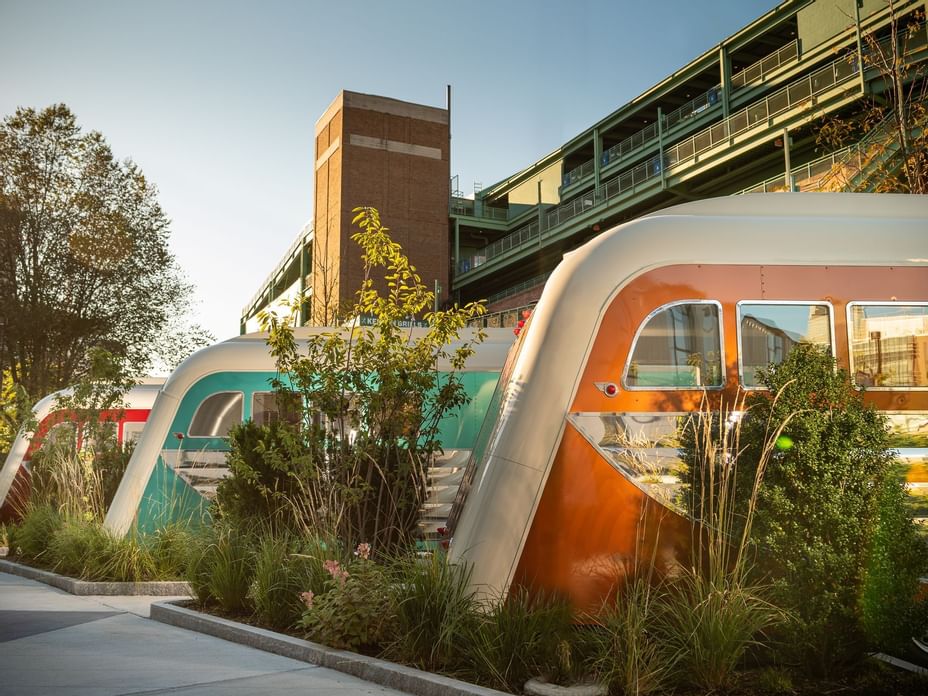 BOSTON–-Backstage at The Verb Hotel, a newly concepted, upscale, outdoor hospitality experience located in the heart of Boston in The Fenway neighborhood, officially opens the doors to the first half of its fleet today. When complete, 10 highly appointed luxury trailers will welcome the well-traveled, tucked between the classic mid-century hotel and adjacent to Boston's iconic Fenway Park. Each trailer suite offers plush beds, relaxed seating areas and outdoor patios providing a personalized all-access VIP experience from the moment one is escorted "backstage."
Boston-based development group, Samuels & Associates, in partnership with Spot On Ventures, created Backstage at The Verb Hotel to expand The Verb Hotel's rock history and riff off the rich musical and artistic roots of the vibrant Fenway neighborhood, providing a nostalgic tour of what life was like on the road for musicians and the fans that followed them.
Each of the trailers celebrate an artist, their generation-defining music and home state. Standouts include "Mama Bertha" and "Sweet Patsy" paying homage to Cass Elliott and Janis Joplin respectively. Colors aptly named "Metallic Copper" and "Hi-Fi Green Harley" are just a few of the bold hues that adorn the trailer's exteriors, while curated artwork and rare music ephemera selected by David Bieber, longtime Director of Special Projects for the Phoenix Media Group and an inveterate collector of rock and roll memorabilia, enhance interiors.
The Backstage at The Verb Hotel trailers draw inspiration from vintage RV designs and were custom built to provide modern day conveniences and amenities. All are equipped with a step-in rainfall shower, king bed, Victrola record player, Nespresso machine, Bose sound bar, gallery lighting, radiant heated flooring and a 43' 4K TV. Even the hardware, stitching, and chrome exterior details that shine like the handlebars of a chopper, evoke life on the road. Backstage at The Verb Hotel's semi-private outdoor spaces are accented by lush greenery, offering guests a place to gather and bask in the sounds of the Red Sox bringing home a win or being privy to a musician's soundcheck before taking the stage.
"Backstage at The Verb Hotel allows visitors the opportunity to have an authentic rock and roll experience," said Chris DeMilia, General Manager of The Verb Hotel. "We are incredibly excited to elevate The Fenway neighborhood's vibe with this addition. We look forward to welcoming guests and providing an unrivaled experience complete with luxury accommodations, and award-winning service."
Backstage at The Verb Hotel guests have an all-access pass to all The Verb Hotel's amenities, from the complimentary library of original vinyl record albums and the outdoor heated swimming pool open year-round. Guests are also just steps away from Nancy and Tim Cushman's Japanese Tavern-inspired Hojoko restaurant serving sushi, street food small plates and craft cocktails. Backstage at The Verb Hotel will also extend a host of signature amenities to its guests including dedicated outdoor seating, oversized outdoor games curated exclusively for Backstage at The Verb Hotel's communal space, a privatized welcome experience, unique seasonal programming, and more.
Ideal for the free spirit and adventurous traveler, Backstage at The Verb Hotel is conveniently located adjacent to the world-famous Fenway Park and newly opened MGM Music Hall, and near the House of Blues Boston, Berklee College of Music and more, making it an irresistible destination for discerning music lovers.