This Must Be The Place
Your Adventures Start Here . . .
---
Welcome to The Fenway, alive 24 hours a day with world-class art, entertainment, dining, education, and groundbreaking innovation. Filled with rich history and culture, the neighborhood is home to some of Boston's most critically acclaimed restaurants, vibrant retail, and preeminent green space. Conveniently located in the heart of it all is Backstage and The Verb—the perfect Boston hotel for music lovers, corporate travelers, leisure guests, Red Sox fans, couples and groups including bachelor and bachelorette parties. This must be the place!
For more about what's around our 'hood, check out The Verb Hotel's local page or The Fenway.
Backstage at the Verb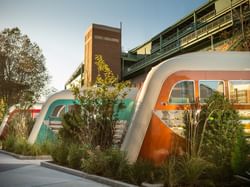 Welcome to Backstage – an urban hotel experience located at The Verb Hotel in Boston's Fenway neighborhood.