Dude, Where's My RV?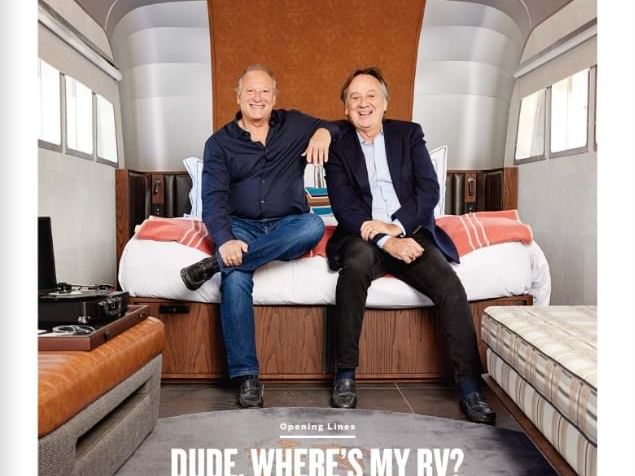 By Jonathan Soroff
An urban trailer park is probably the last collaboration you'd ever expect between a former general manager of the Four Seasons and one of Boston's most prominent real estate developers, but with Backstage at the Verb, Robin Brown and Steve Samuels have created just that–albeit a very luxurious one. In keeping with the hotel's rock 'n' roll DNA (the halls and public spaces are chock-a-block with a mind-boggling array of instruments, equipment, and memorabilia), the fleet of 10 custom-designed trailers re-create the vibe of a star's dressing room, complete with king-size beds, full baths, and amenities fit for a multi-platinum Grammy winner–all within earshot of Fenway Park's slate of summer concerts. We sat down with Samuels and Brown to talk about the quirky concept, rock-star guests, and the future of the neighborhood they've been transforming for years.
This is not your average project. How did the city respond when you came to them and said, "This is what we want to do"?
SS: They were a bit curious, and I think they leaned in eventually when they understood what we were trying to accomplish. But we still had to come up with a new category for the building codes to cover a hybrid: a permanent, semi-transient vehicle that acts as a full-time hotel room that's going to work in January.
So how would you describe what you've built here? A luxury trailer park in the middle of Boston?
RB: That works. As a whole, I think any real estate developer or hotel developer would have taken a building like the Howard and Johnson's motel and would just start over, because it's not occupying the square footage, and it appears to be nothing redeemable. But for Steve, he saw things [for the Verb] that nobody else could see in this neighborhood. He realized that this could be iconic. I just came in at the end and sort of fluffed the pillows.
SS: They're really nice pillows.
How did your business partnership start?
SS: It started with an introduction from the Wiener family. They were acquiring this piece of land and joined our partnership. We merged it with all the other pieces of real estate we were buying in the Fenway. And the interesting part about it– the important part about it– is that if you bought this piece of real estate and you had a profit motive, you would've done exactly what Robin said: Let's tear this thing down and build 300,000 square feet here. But if you're building out an entire neighborhood, and you're looking to keep pieces of its character alive, you don't have to look very far to see that this 1959 motel–there will never be another one of these things. It had a story to tell, based on its architecture and its bones, but the bigger story to tell was the history of this neighborhood for the past 50 years. It had publishing and music: the Phoenix, WFNX, WBCN, all the clubs on Lansdowne Street. We thought the Verb would be a great mouthpiece for talking about that history.
Would you call Backstage "glamping"?
RB: When you say glamping, I'm thinking National Parks. You know, the smell, the environment of the great outdoors, those spectacular views, but probably no ice cream parlors around. Make your own fun. What we've tried to do is take that experience but throw it into the middle of a major city, with every conceivable kind of entertainment and amenity. We've created this little private pod in the middle of chaos.
SS: Maybe in August, we should come here in the middle of the night and release, like three raccoons and two bears. [Laughs.]
Part of the backstage mystique is velvet ropes and bouncers–-exclusivity. Is there an element of that in the new project?
RB: This is more about the Verb experience, going a little deeper, into a moment like being backstage with Mick Jagger at Gillette Stadium playing pool–things that Steve and I, in our lives, have had the privilege once in a while to do. You don't think back about the red velvet ropes. It's the artist, the energy, the creativity–just the moment of watching them. We've tried to tap more into the spiritual side of that than the physical.
Okay, but people interpret "backstage" as sex, drugs, and rock 'n' roll. What happens when one of the trailers gets a little bit… overused, shall we say?
RB: We have their credit card information.
SS: And Robin has a police uniform.
This neighborhood is an interesting sell. What's your target demographic for the new concept, and how do you lure them to an area that's not the Back Bay, Beacon Hill, or the waterfront?
SS: It's a creative neighborhood. It's diverse. It's multigenerational. It's bohemian, yet it's got some upscale aspects. You can find something for everybody, and it feels like home for anybody. It's comfortable. It feels safe. I think that's the uniqueness that the Fenway has always had. And it's always had an edge. It's still here, that character. You look around, and there's Tasty Burger, the Verb, and the refurbished Landmark Center, back to its 1938 art-deco roots.
How did you first decide to develop around here?
SS: When we came here, we thought of the Fenway as the "the hole in the doughnut." And what I mean by that is you look at the neighborhoods on either side, from Brookline and BU to the Back Bay. Originally, in addition to Fenway Park, there was the Sears building, which was a major hub of commerce. So a lot of great road networks converged here, and it was very transient. Because of that, in fact, automobile dealerships and service places dominated this street for a very long time, because of the intersection of all the roads. Everything else developed around it, and that's why we call it the hole in the doughnut. The idea was that if we can fill in Boylston Street and make it a beautiful walking street that connects the Fenway to the Back Bay, we filled in the hole, and it becomes a place.
What happens when a guest files a noise complaint about Fenway Park, or vice versa?
SS: they have Robin's cell number.
RB: There's really no issue with noise here because people just expect it. They're in an urban environment, so I'm not the slightest bit worried.
SS: When we first came here, there were discussions on both sides. The Red Sox said, "We don't want you building too close to Fenway Park, because at 2 or 3 in the morning, when the lights are still on, and we're taking care of the trash, we've got to do our thing. "I get that point. At the same time, in trying to bring residents here, or retailers, or office workers, they're like, "how am I going to get in and out of here 80 days a year, when there's an influx of 30,000 people and the roads are clogged up and the streets are blocked off?" And every one of those people we had to convince that you can live together. We found ways to build and make them work together. It happened organically. The Sox did their thing. We did our thing. And now, you look around and everybody likes the energy that's happening here. Yeah, people bitch about the traffic and the inconvenience. But that's inevitable.
Do you foresee expanding Backstage into other markets? Is this a translatable concept?
RB: Totally. We're looking at it already. Resorts with a market as vibrant as Boston, maybe Austin, Texas, or Nashville, because of the music, obviously, but I think it doesn't have to be about music, or rock 'n' roll. It's about storytelling. In the right environment, it could be about opera. It can be translated into what's important in that particular neighborhood, where we can tell a very powerful story. It's Steve's creativity that takes this whole branding thing to another level.
Would you say that storytelling is the heart and soul of this whole endeavor?
SS: Yes. Most of the things that were built in the Fenway are part of a bigger story, and every one of those pieces connects to the others. Take the Sears building, now the Landmark Center. When it was built in the late '20s, Sears was the Amazon of its day, right? They were the dominant retailer and purveyor of commerce on the planet, same as Amazon today. So they built this enormous building that was sort of saying. "Hey, I'm the king of commerce." And then as it became outdated, that building fell into disrepair. But here we are, taking it back to its roots, peeling back all the junk that was put on it over time and bringing it back to its original character, so that anybody who thinks like Sears did back in the '30s or like Amazon now, can come and work in this building, because that's what it stands for.
Have you had a lot of under-the-radar rock stars stay at the Verb?
RB: Oh, yeah. I think the Edge was probably the coolest, but none of us said a word or acknowledged that he was here. But he was here with his wife and son, I think, looking at universities. They just booked under an alias, through a travel agent, a regular room, and the three of them slept there. When he went out, he'd just wear a cool hat and pull it down. The staff called me and said, "Oh my God, VIP! What do we do?" I said, "Don't do anything. Don't look at him. Don't say a word." Because that was the best compliment we could ever have, you know?
So, What will this area look like 20 years from now?
RB: As impeccable,and impeccable, and hopefully not really changed in character, but maybe a little bit more storytelling. There'll probably be another major surprise or two, I'm sure, by the time we're done, but it will just enhance the character.
SS: The part that we have to pay attention to is keeping that sense of uniqueness and diversity, a little bit of the bohemian nature of the Fenway, because when that goes away or gets whitewashed, we've lost the battle.
Okay, first concert each of you ever saw?
RB: Genesis, 1962, De Montfort Hall in Leicester, England. Peter Gabriel as lead singer, with their mirror makeup, and 2,000 drunk students.
SS: I think my first was Bad Company, at the Blossom Music Center outside of Akron, Ohio.
If you had to pick one, what's your favorite piece of memorabilia at the Verb?
SS: Mine would definitely be the schedule for the Boston Tea Party, for May 1969. Led Zeppelin, the Allman Brothers, the Velvet Underground. You look at the bands that played at his frickin' bar in that one month and fall off your chair.